Professional Pressure Washing Services in Port St Lucie, FL
We can handle all your Pressure Washing Needs in Port St Lucie and the surrounding areas!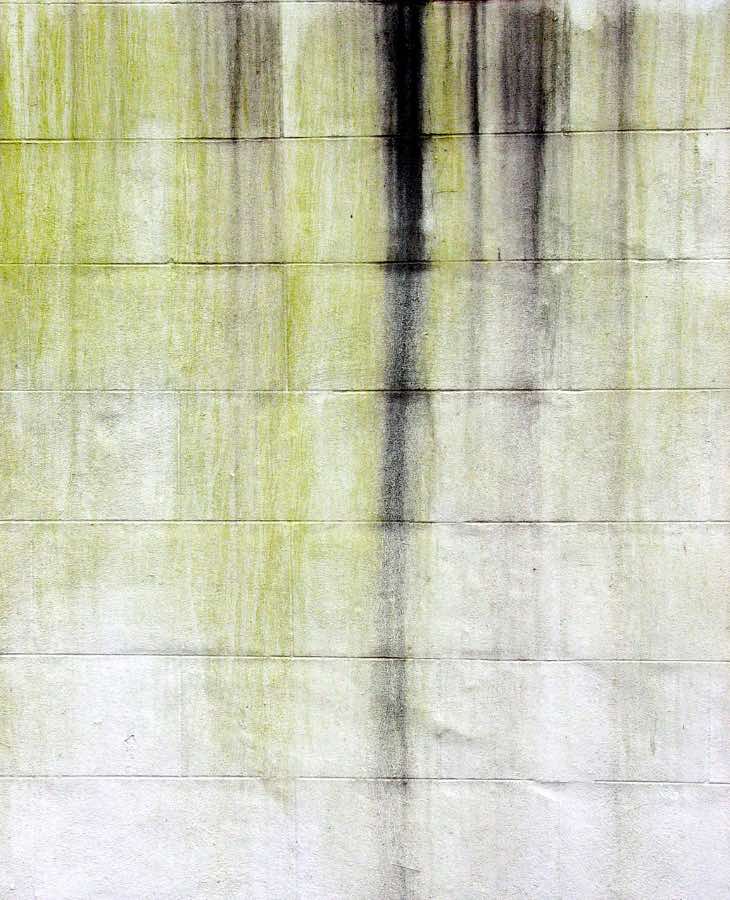 Why You Shouldn't Neglect Regular Pressure Washing In Port St Lucie
Owning a home or business in Port St Lucie, FL, comes with its fair share of maintenance tasks, including cleaning the exterior. When pressure washing gets neglected, it can lead to many problems beyond a dirty appearance. Regular exposure to the elements causes dirt, grime, and biological substances to become ingrained into your property's surfaces, such as concrete, paint, or brick, leading to permanent stains.
This lasting damage is challenging to clean and costly to repair. Another problem is that mold and mildew growth, common when pressure washing is neglected, pose health risks to humans. The accumulation of these substances can deteriorate the air quality around your property, potentially leading to respiratory problems and other health issues. In essence, neglecting pressure washing can be detrimental to your property's value and the wellbeing of its inhabitants.
Our Port St Lucie Pressure Washing Solutions Will Save You Time And Money!
At Pressure Perfection, we understand these challenges and offer comprehensive pressure washing services throughout Port St Lucie that restore the beauty of your property while protecting it from potential damage. Our solutions are not just about cleaning; they are about preserving the value and integrity of your property.
We understand that each property is different, so we customize our services to meet the specific needs of your home or business. We know it's not just about removing dirt and grime; it's about using the correct techniques and equipment to ensure the cleaning process does not cause further damage to your surfaces.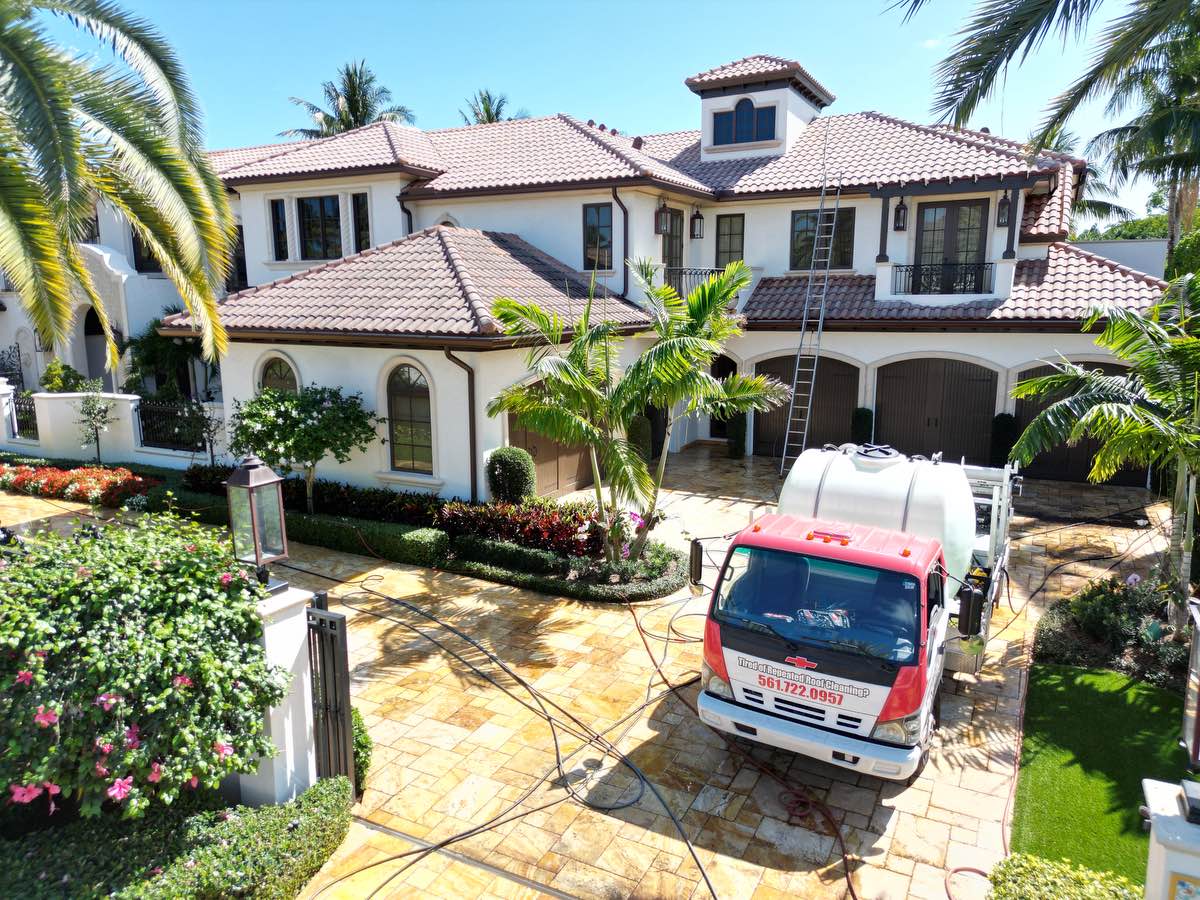 That's why we never use Chlorine or harsh chemicals. Instead, we employ a high-volume, low-pressure cleaning system that provides a deep clean without needing harsh chemicals that can harm the environment and potentially cause damage to your property's surfaces.
With Pressure Perfection, you don't just get a clean property; you get a team that genuinely cares about the wellbeing of your property and does everything we can to ensure you're completely satisfied. We are always responsive to our customer's needs and concerns, and our strong reputation in the community attests to our commitment to professionalism and quality service.
Looking For "Pressure Washing Services Near Me"?
Our Port St Lucie Pressure Washing Has You Covered!
We take immense pride in what distinguishes us from other pressure washing and roof cleaning services. With over two decades of industry experience, we've pioneered innovative, high-quality, and safe cleaning solutions. If you're located in Palm Beach, St Lucie, Martin, or Broward Counties, we at Pressure Perfection are ready to restore the original charm of your home with our professional, no-chlorine, pressure washing services!
Our Comprehensive Port St. Lucie Pressure Washing Services Include:
We proudly offer a comprehensive range of pressure washing services throughout Port St Lucie and the surrounding areas. So reach out to us for a free estimate, and let us help you maintain the beauty and longevity of your property.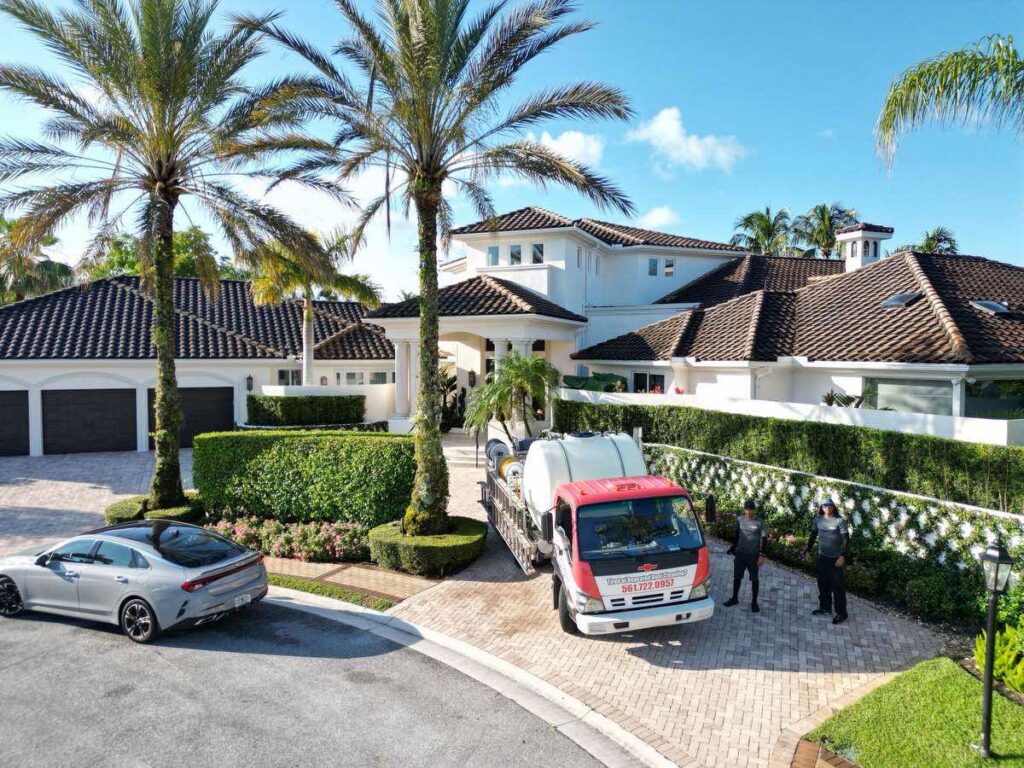 Residential Pressure Washing in Port St Lucie
Among the top-rated pressure washing services in Port St Lucie, Pressure Perfection stands out for our exceptional service and commitment to customer satisfaction. What sets us apart is that we don't use Chlorine! Instead, our use of high-volume, low-pressure techniques effectively removes dirt, grime, and biological substances from your property's exterior and ensures these surfaces' longevity and integrity. We understand the value of maintaining the aesthetic beauty of your property and work diligently to exceed your expectations every time.
Exterior House Washing in Port St Lucie
We offer comprehensive exterior house washing services that cover every corner of your home. We ensure your home shines outside, from windows to walls, siding to decks. Our team uses eco-friendly cleaning solutions and state-of-the-art equipment to deliver a deep clean that enhances your home's appearance and helps maintain its structural integrity. We understand the unique needs of each property and customize our approach accordingly. Whether you need a simple pressure wash or a more thorough, deep clean, our team is equipped and ready to exceed your expectations.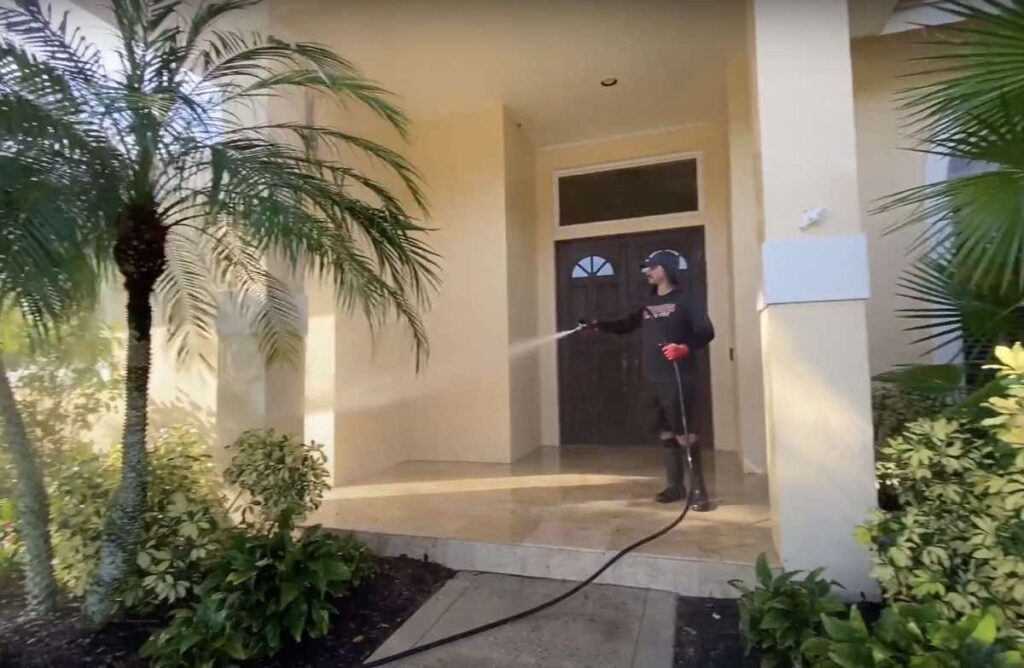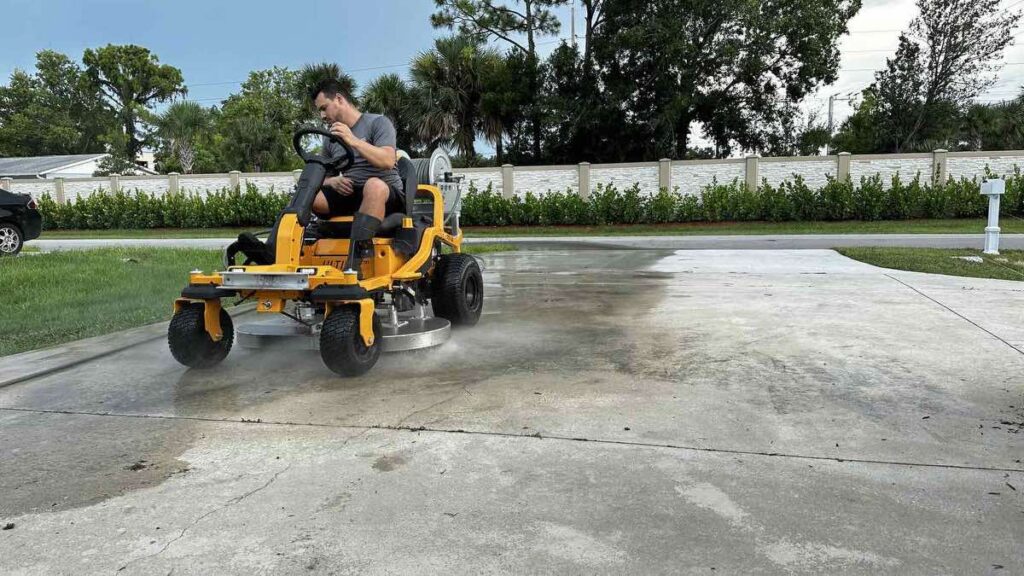 Driveway Pressure Cleaning Services in Port St Lucie
At Pressure Perfection, we understand that your driveway and patio are more than just functional spaces – they're an integral part of your home's curb appeal. Over time, these areas can accumulate dirt, grime, oil stains, and biological substances like moss and algae, making them look worn out and neglected. Our professional driveway and patio cleaning services can restore these surfaces to a near-original condition. We use high-quality, eco-friendly cleaning solutions and low-pressure washing techniques that are powerful enough to remove even the toughest stains yet gentle enough not to cause any damage. Our skilled technicians carefully assess each surface to determine the best cleaning approach, ensuring optimal results every time. With our driveway and patio cleaning services, you can rest assured that these areas of your home will look their best and last longer. We pride ourselves on our attention to detail, commitment to quality, and exceptional customer service. Let us help you enhance the beauty and value of your home.
Roof Cleaning in Port St Lucie, FL
Our Port St Lucie roof cleaning service enhances the aesthetic appeal of your home and extend the life of your roof. We use a gentle, chlorine-free approach to safely remove harmful substances like mold, mildew, and algae that can gradually deteriorate your roof over time. Our thorough and effective process ensures your roof looks its best and functions optimally for years. Apart from general roof cleaning, we also offer specialized services such as cleaning flat, metal, and shingle roofs. With a focus on customer satisfaction, we provide quick and efficient services without compromising on the quality of our work. We also offer Roof-A-Cide applications that come fully backed by a 2 year guarantee!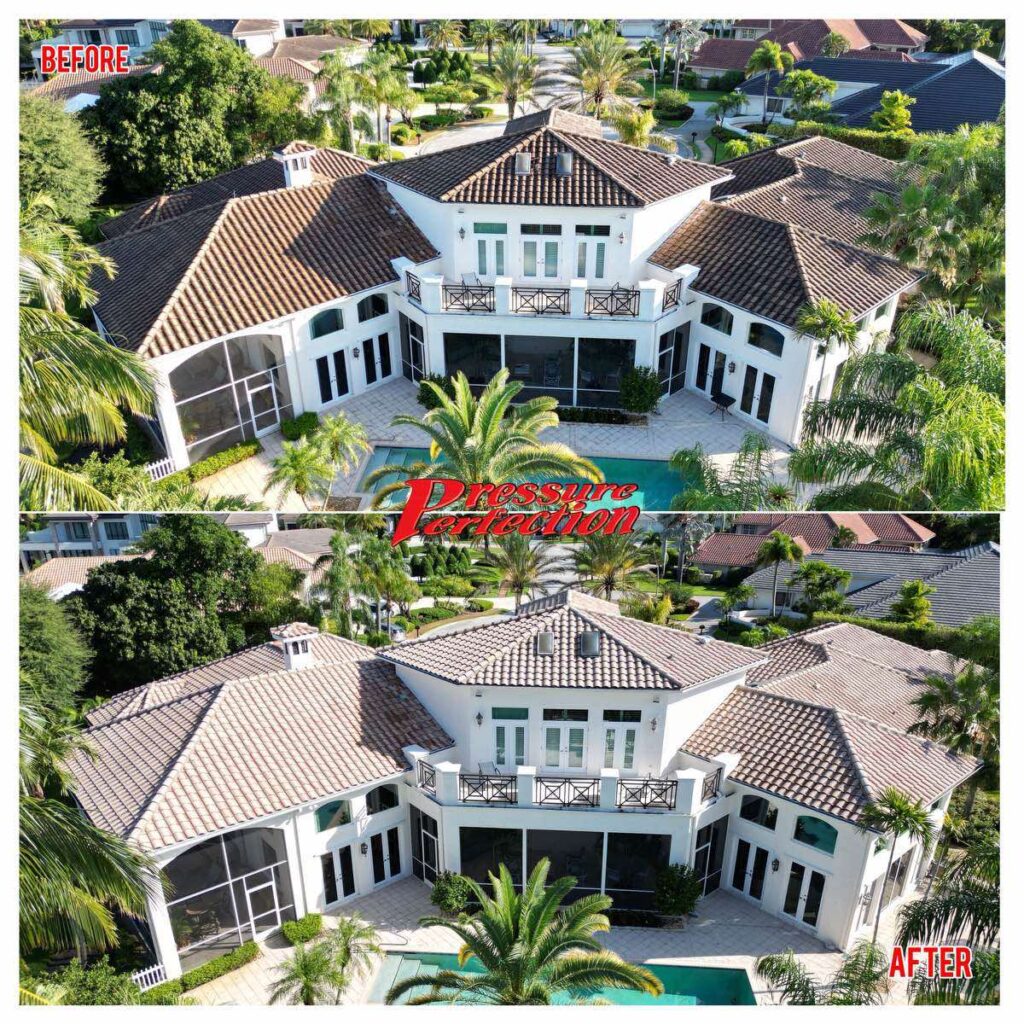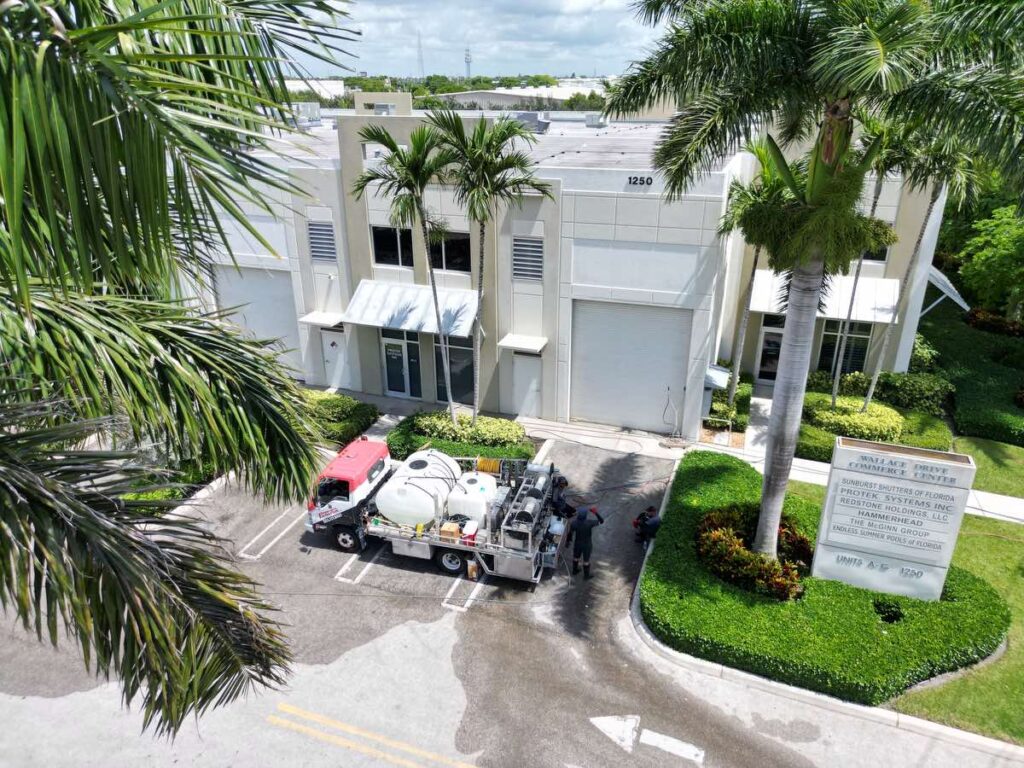 Commercial Pressure Washing in Port St Lucie
Pressure Perfection isn't just for homeowners; we also serve businesses in Port St Lucie. Our commercial pressure washing services help companies maintain a clean, professional appearance that leaves a positive impression on clients and customers. We are familiar with the unique needs of commercial properties and offer customized cleaning solutions that meet those needs without disrupting your operations. Whether it's a storefront, office building, or industrial complex, we have the expertise and equipment to provide a superior clean, fast! 
Reach out to us for a free estimate and let us make your roof and driveway look brand new.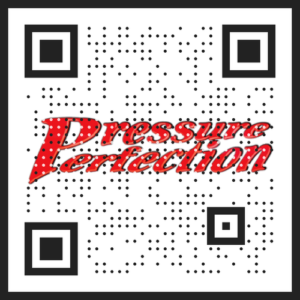 Our Pressure Washing Services Put You First!
Chlorine-Free Cleaning: Unlike many other pressure washing services that rely heavily on chlorine-based solutions, Pressure Perfection does not. This ensures that while we're getting rid of the dirt and grime, we're not causing any harm to your property or the environment.
High Volume, Low Pressure: Our unique approach to pressure washing involves high-volume but low-pressure cleaning. This method ensures effective and thorough cleaning without causing any damage to your property's surfaces. It's a delicate balance that allows us to wash away dirt, mildew, and algae without stripping paint or damaging the material underneath.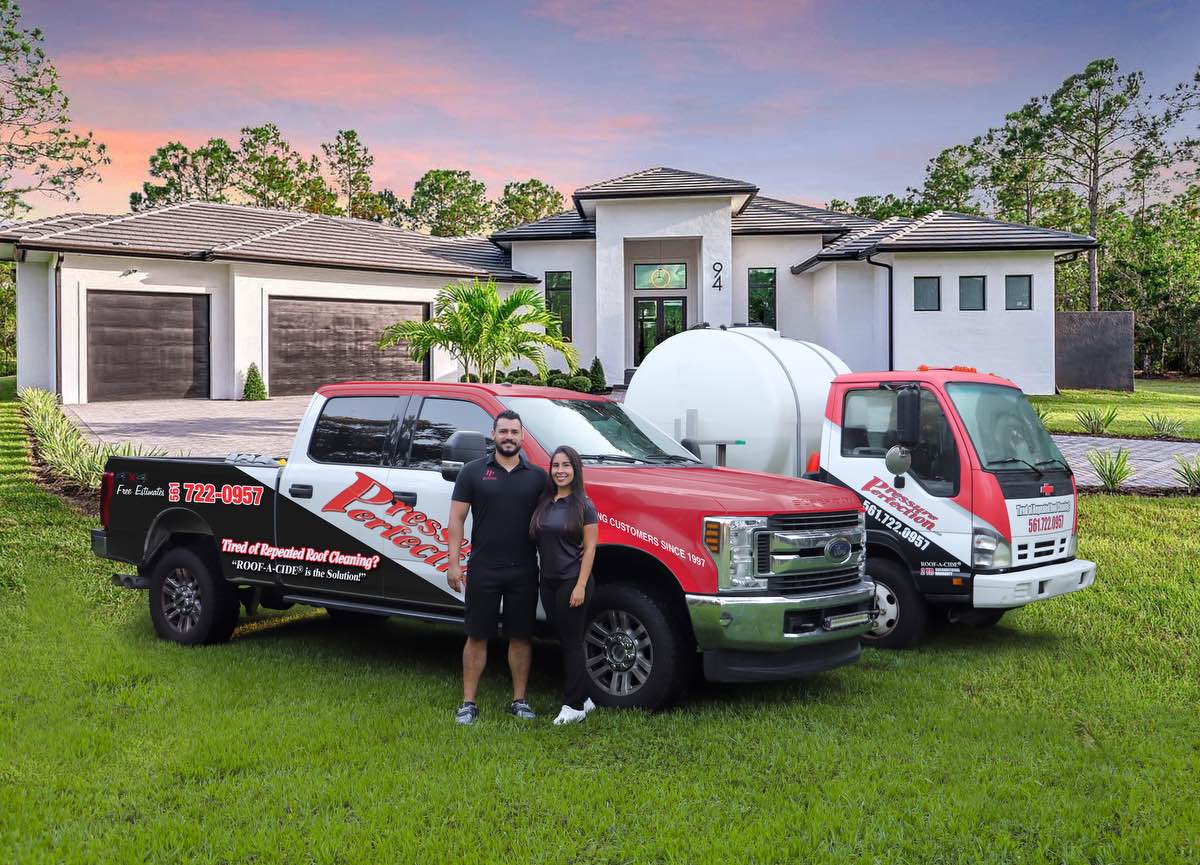 Fully Licensed and Insured: At Pressure Perfection, we believe in providing a reliable and trustworthy service. That's why our team is fully trained, licensed, and insured. This gives our clients peace of mind, knowing they're entrusting their homes to professionals who have met stringent industry standards and requirements.
Responsive, Reputable, and Professional: Customer satisfaction is at the heart of everything we do. We prioritize responsiveness and professionalism in all our interactions. Our strong reputation in Port St. Lucie proves our commitment to excellence. We strive to offer high-quality work and exceptional customer service to each client.
4 Benefits Of Using Pressure Washing Services in Port St Lucie, FL
Pressure washing your home or business can provide many benefits, from aesthetic appeal to long-term savings. Here are four key benefits that our pressure washing services in Port St Lucie can offer: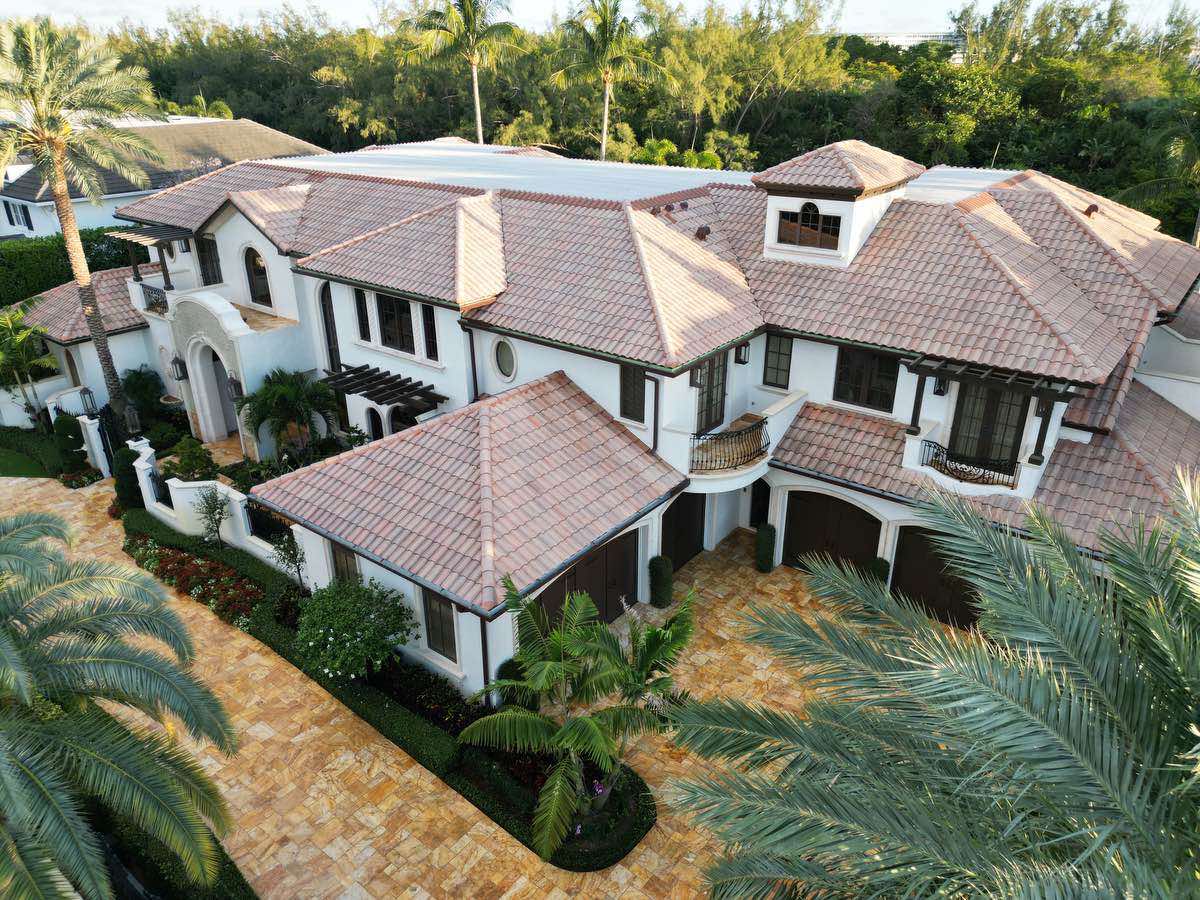 Boosts Curb Appeal: Pressure washing can dramatically enhance the look of your property. It helps remove stains, discoloration, and dirt, leaving your surfaces fresh. This can boost your property's curb appeal, making it more attractive to visitors, customers, or future buyers.
Improves Health: By eliminating mold, mildew, and other allergens, pressure washing can improve the health and safety of your home or business environment. This is especially helpful for those struggling with allergies or asthma.
Prevents Damage: Over time, harmful substances such as dirt, grime, mold, and algae accumulate on your property, causing damage to the siding, roof, and other surfaces. Our pressure washing services efficiently remove these contaminants, preventing potential deterioration and extending the lifespan of your property.
Saves Money: Regular upkeep of your property with pressure washing can save you money by eliminating harmful substances, preventing long-term damage, and avoiding unnecessary repairs.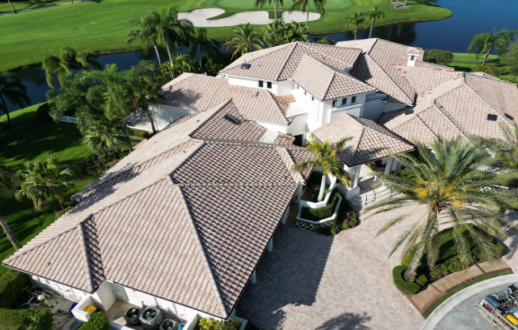 Experience The Pressure Perfection Difference!
Don't let dirt, grime, and unsightly stains tarnish the beauty of your home or business. As the local experts in Port St Lucie, FL, our team at Pressure Perfection is here to help with all your roof cleaning and pressure washing needs. We are dedicated to restoring your property's original charm and aesthetic appeal. We use eco-friendly solutions and advanced cleaning techniques that are safe yet highly effective. Our team is fully licensed, fully insured, and carefully trained to deliver a high-quality service every time. Trust the experts at Pressure Perfection to breathe new life into your property. Whether a residential home or a commercial building, we can handle jobs of all sizes. Contact us today to schedule your service.
What Your Port St Lucie Neighbors Say About Us
We're committed to providing top-notch, professional service that meets and exceeds our clients' expectations. But don't take our word for it. Our positive customer feedback speaks to our dedication and quality of service.

One of the few companies that don't use chlorine. If you allow a company to use chlorine on your roof you are killing the underlayment of your roof and will get leaks a lot sooner then otherwise. I highly recommend this company. They did a fantastic job, very professional

I looked at a couple of other companies to do business with and found that John and his company were the most responsive and attentive than the others. And then when I saw the large number of 5 star reviews I decided to use Pressure Perfection to clean my roof. 

No awful chlorine chemical smell. Really important for our plants and pets. John and his team are amazing! They are responsive and our house looks amazing. I hired him originally to do the roof but we were so impressed we had them do the entire house. 

John runs a first class business. He is passionate about his work and he is a perfectionist as well. Do not use companies that use chlorine that voids roof warranties. He is a pleasure to work with and the results are outstanding. My house looks like new.