What is Roof-A-Cide©?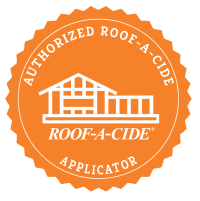 Pressure Perfection is an authorized Roof-A-Cide© applicator in Palm Beach County. Roof-A-Cide© is an EPA approved eco-friendly spray which is applied to your roof to keep mold, mildew, and fungus from growing for a period of 2 years backed by an UNCONDITIONAL GUARANTEE! A light spray every 2 years is all that's needed to keep your roof looking like new without having to pressure clean ever again.
Roof-A-Cide® does not contain harsh chemicals like chlorine which will eat through your roof and cause nails and other metals to rust. Roof-A-Cide© is also safe to use on your property because it does not kill plants, grass, or vegetation and will not damage your roof or the paint on your home.